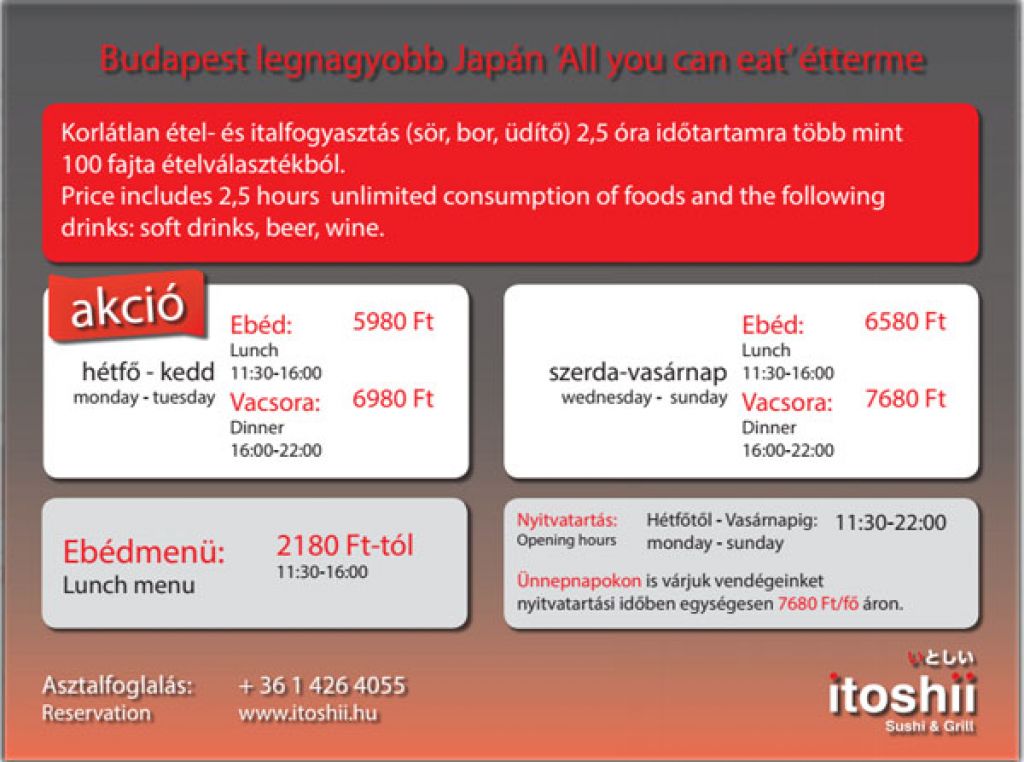 Discount prices 
The ITOSHII Budapest Restaurants "ALL YOU CAN EAT" our service from 1 January 2015 until further discount of charge.
What is an "ALL YOU CAN EAT" service?
In contrast to the traditional ordering called "a`la Charte",  the "ALL YOU CAN EAT" catering system is that a certain amount with a wide variety of different dishes, a variety of gourmet bite dazzle your guests.
What does this mean in reality?
You and your guests two and a half hours at the disposal of the nearly 120 varieties of food and drink indefinitely.
Special prices for this period:
| | |
| --- | --- |
| LUNCH:  |   |
| Monday and Tuesday: |  5 480 Ft /person |
| Wednesday to Thursday: |  5 980 Ft /person |
| Friday to Sunday:   |  7 280 Ft /person |
| DINNER: |   |
| Monday and Tuesday: |  6 980 Ft /person |
| Wednesday to Sunday: |  7 280 Ft /person |
|   |   |
| MAIL for Child (3-10 years) : |   |
| any period   |  3 500 Ft /person |
|   |   |
| Feast Day:  |  7 280 Ft /person |
Special actions
Monday and Tuesday:
Launch:                          5 480 Ft /Person instead of 5 980 Ft/ person
Dinner:                           6 780 Ft /Person instead of 7 280 Ft/ person